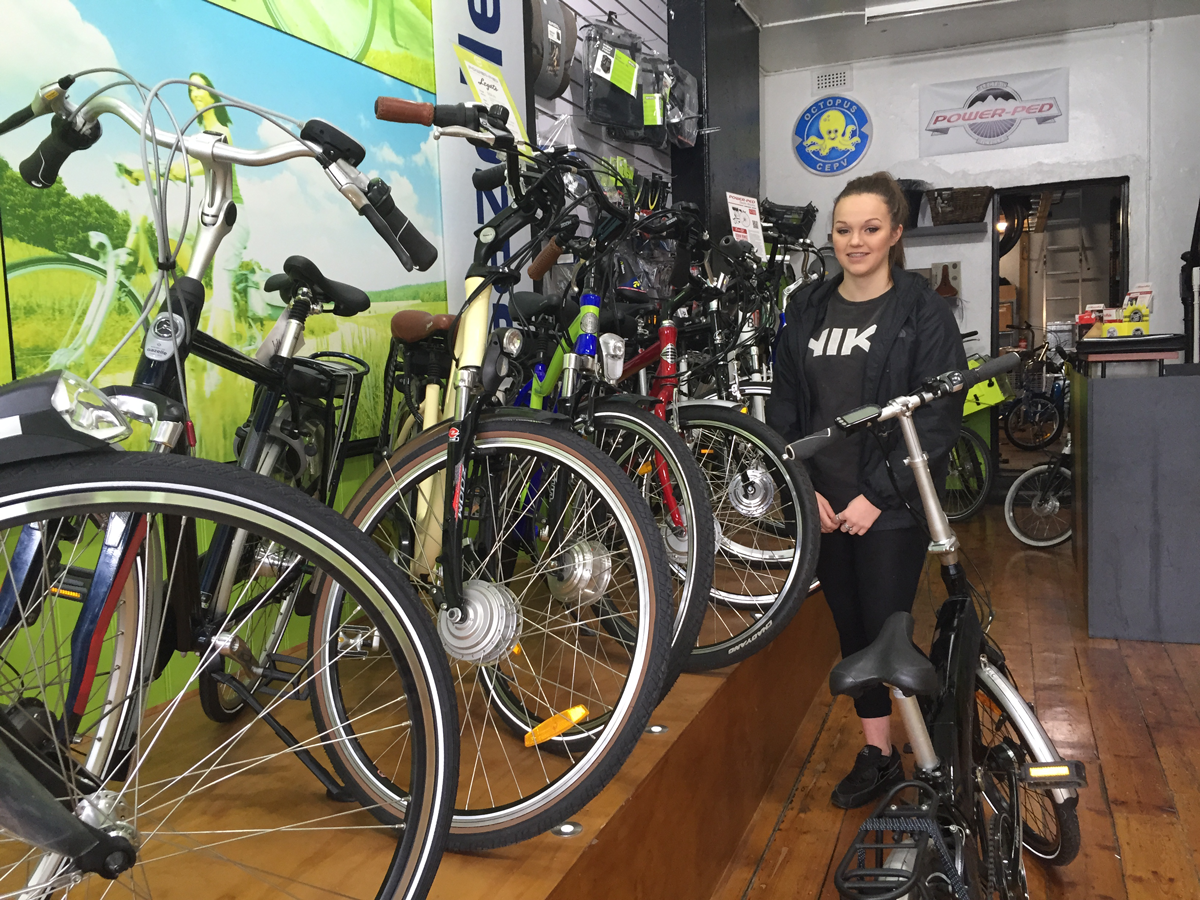 Greenskills placed Lauren Crooks in a traineeship at E-Bike Central in April 2015. As a female, working in the bicycle industry, Lauren is somewhat of an anomaly, a frontrunner in an incredibly male-dominated industry.
Historically male oriented, Australia's bicycle industry is sometimes quite intimidating and alienating for women, particularly women shopping for a new set of wheels. This is despite the fact that more and more females around the world are riding, and shopping for, bikes.
Bike shops seem to lack one crucial ingredient for success: female staff. A mere 15% of all staff employed in the bicycle industry are female, the majority of whom are employed in administrative roles. If you seriously want to connect, communicate, understand and sell to women, then you need to employ women on your sales floor and in your workshops.
The most recent Australian Bike Industry report highlighted that women control 80% of all Australian household budgets. Clearly, women are the gatekeepers of spending decisions, including those spending decisions made in bicycle stores. But it's a mistake to see women as mere influencers on the purchasing decisions of their partners and children; women are of course active, serious and valuable cycling consumers in their own right.
The cycling industry is starting to respond to this buyer profile. According to the Bike Industry report, 58% of Australian bike shops now have female specific displays and 17% have run female specific promotions within the last 12 months. Some of the larger bike companies have been investing in their women's ranges, and the marketing of these ranges, for a few years now.
This is something that E-Bike Central in Richmond understands well. Trainee Lauren is responsible for both the repair and the sale of e-bikes. She is learning technical, hands-on skills repairing e-bikes in the workshop that make selling the environmentally friendly bicycles much easier on the shop floor. This makes Lauren not only a friendly face, but also a source of in-depth technical knowledge, for E-Bike Central's female customers.
"Lauren has had a huge impact on our customer base. We find that women naturally gravitate towards her. And, with the technical knowledge she is gaining in the workshop, Lauren has the skills to accurately sell, and even upsell, to all of our customers. While Lauren is the first female member of our sales team, we would not hesitate in recommending employing female sales staff to any bike shop. It has done our business wonders," said Darryn Simcox, owner of E-Bike Central.