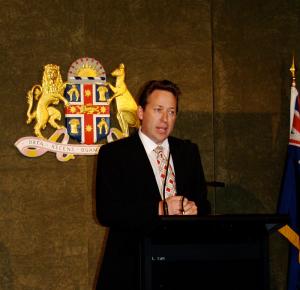 "Maintaining a commitment to skills formation in hospitality and tourism is vital if the industry is to prosper", said Nicholas Wyman, CEO of one of Australia's largest employers of apprentices and trainees. Mr Wyman was keynote speaker at a Student Pathways industry leaders function at Parliament House, Sydney on 16 March 2009. In attendance was a large cross section of the industry including employers, government as well as students interested in pursuing careers in Tourism and Hospitality.
Last week's news reported employment growth booming on the back of a record leap in job advertisements. Unemployment overall of Australians looking for work dropped to under 6%, with men doing better than women. The same Australian Bureau of Statistics show, however, what has received little publicity that 15-24 year olds are having a tough time getting a start in hands on training.
The industry is seeing signs of a lag effect as employers with renewed confidence look to re-employ apprentices and trainees with some experience. They are finding this difficult as the number of commencements for trades apprentices in the 12 months ending 30 June 2009 dropped by one fifth. Combined with continuing high unemployment (one in four of 15-19 year olds and double the overall unemployment of 20-24 year olds) the lag effect will last for the next 3-5 years.
There is currently good availability of talented young people to commence. "Now is the best window of opportunity to decide to bring in apprentices and trainees to ensure your business is skilled up" Mr Wyman said.
Mr Wyman told the group that Tourism is one of the greatest employment generators in our economy. It is one of our strongest export earners while, at the same time, our industry can push spending directly into local communities. If you are looking for a sector that can lead Australia away from difficult times, Hospitality and Tourism should be at or near the top of your list. Now is the time for the industry to start planning for the next boom. Let's not start thinking about it when the economy has fully recovered and we are back in the same situation of skills shortage.
Developing skills will always be at the heart of strengthening this industry. We need an industry of managers as well as entrepreneurs; we need an industry that understands staff development as much as it understands creativity. Hospitality is where many people get their start in the workforce. We can do better at making sure that a larger proportion stay on because this is a great place to work with great people. Mr Wyman gave the prospective employees three tips for a successful career in the industry: communicate clearly, cooperate with co workers and have passion for what you do.