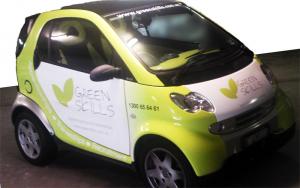 WPC Group recently launched its new GreenSkills Smart Car in Melbourne. Look out for the new flashy car, which is currently zipping around Victoria. Branded with exciting green and white GreenSkills graphics, the eye-catching car is hard to miss on our streets.
Released to promote a sustainable environment, the GreenSkills car is aimed at developing our workforce to have skills that make a real difference to Australia's environmental future.
The GreenSkills car is also due to launch in Brisbane and Sydney in the next few months. For further information visit www.greenskills.com.au or call 1300 656 461.