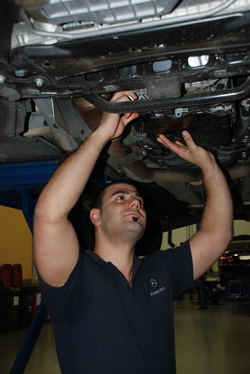 Mercedes Benz in partnership with WPC Group was awarded at the Victorian Training Awards the Victorian Employer Award for Apprentice Development. The award was presented by the Victorian Skills Commission and Skills Victoria. The Minister for Higher Education and Skills Peter Hall congratulated all winners in their achievements at the glittering ceremony at Crown Palladium "Much of Victoria's competitive advantage comes from its highly skilled workforce and high quality industrial sector" said Mr Hall.
From auto open days, an accelerated apprenticeship program and track days at the Formula 1 Grand Prix, Mercedes-Benz Melbourne's three-phase initiative – Attract, Retain and Develop – is about finding great candidates and holding on to them. This being done with the support of WPC Groups experienced Apprentice Mentors means employers like Mercedes-Benz are not in it alone, they have someone to turn to when the times get tough and in this case someone to celebrate with when awards are won.
Mr Hall said "These awards not only celebrate achievement, they also play a key role in fostering excellence in vocational education and training, which itself leads to amore highly skilled workforce"
The 3 phase initiative in collaboration with the 3 partners Mercedes-Benz, WPC Group and Kangan Institute means that these apprentices are mentored and supported through their entire apprenticeship to ensure a smooth transition to becoming a qualified trades person which in turn makes an impact on the critical skill shortage issue we face today. WPC Group and Mercedes Benz will remain a joined force attempting to stamp out the skills shortage in the automotive industry moving into the future.'
WPC Group CEO Nicholas Wyman says "WPC Group CEO Nicholas Wyman says "I would like to congratulate Mercedes-Benz on winning the Apprentice Development Award! It delights the entire team at WPC when we partner with an employer who has the same morals and intent to impart skills onto today's youth, the more employers like Mercedes-Benz the bigger impact we can make on skills shortage issues. WPC Group, is in the business of connecting young people with the training they need to get ahead in the real world. A hand up, not a hand out. We provide a bridge between school and the world of work, linking motivated individuals with employers like Mercedes-Benz.
For more information see Skills Victoria 2011 Victorian Training Awards Winners http://www.skills.vic.gov.au/events/victorian-training-awards/2011-winners#apprentice-development
For more information see press release from the Premier of Victoria Ted Baillieu's office: http://premier.vic.gov.au/media-centre/media-releases/1871-victorian-training-awards-2011-winners-announced.html