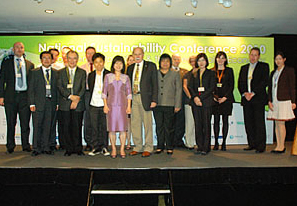 The second National Sustainability Conference (NSC) in Singapore took place from 29 to 30 July this year. Entitled "Environmental Up-Skilling and the Green Collar Economy", the conference was co-organised by the Office of Environmental Sustainability (OES), NUS and the Workplace Research Centre, University of Sydney. It brought together policymakers, academics and members of the industry to explore key themes such as sustainable strategies to be pursued for Singapore and the Asia-Pacific, and the attendant implications that these strategies have on businesses in the environmental economy in terms of operations, management and hiring principles.
Nicholas Wyman, Chief Executive of WPC Group and Greenskills presented on how Green Apprenticeships integrate with Workforce Development. He covered how ?understanding the drivers and motivators of the next generation of employees and harnessing their interest in a sustainable economy is driving change through organizations.
Critical to an organisations success will be the ability to align the workforce to current and future service demands. Through the unique mentored apprenticeship model, employers can harness this engagement toward productivity.
Further information regarding the National Sustainability Conference 2010 is available to download.