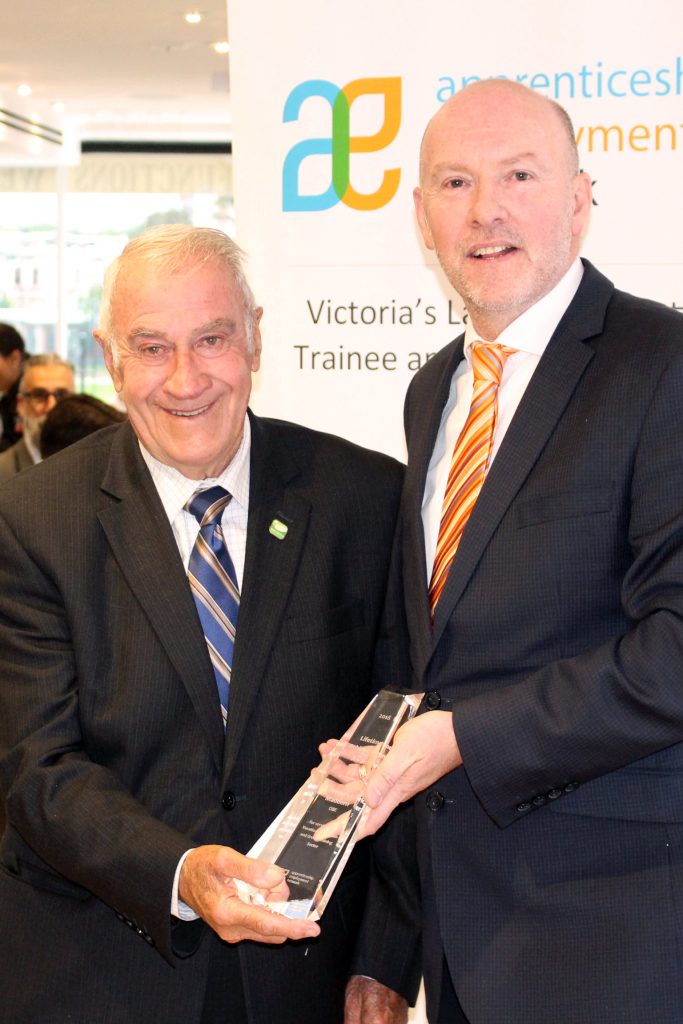 WPC Group Chairman Frederick J Maddern OBE has been recognised for his 40+ years of valuable contribution to the vocational education and training (VET) sector.
Mr Maddern was presented with the Apprenticeship Employment Network (AEN) Lifetime Achievement Award at the AEN Awards Night in Melbourne on November 22.
AEN is the peak industry body representing not for profit group training companies across Victoria. The Award recognises an individual, for their contribution to vocational education and training and the advancement of Group Training in Victoria.
Mr Maddern says he feels "humbled" and "grateful" to have been recognised.
"It is a great honour to receive an award like this. I am tremendously thrilled with the support I have been given over the years, and I couldn't have achieved half the things that I've done without the teams I've had behind me," Mr Maddern says.
Having enjoyed a wide-ranging career, Mr Maddern has held foundational and significant roles with numerous government and community organisations, including Councillor and Mayor of the City of Footscray, President of the Municipal Association of Victoria and President of the Australian Local Government Association.
Mr Maddern's involvement with the VET sector goes back to 1974, when he was the CEO of the Western Region Commission (WRC), which was formed to address the high level of youth unemployment in Victoria's Western Suburbs.
In 1983, Mr Maddern worked with the WRC Board to develop Western Region Group Training (WRGT), the first community based GTO established in Victoria. This GTO officially relaunched in 2007 as WPC Group. As Chairman, Mr Maddern worked with his team to strengthen the traineeship and apprenticeship models, at a time where there was a lack of focus and lack of funding. Fred worked hard to reinvigorate group training, repositioning WPC Group for the 21st century, never losing focus of the apprentices and trainees and the communities he had set out to help. Mr Maddern continues this work, still Chairman of WPC Group today.
Mr Maddern also chairs the Skilling Australia Foundation and is actively involved in supporting its activities. Set up in 2012, the Foundation works in innovative ways to support young Australians facing disadvantage to forge their own career pathways through training and employment.
Fred says he is proud that the work done by the Western Region Group Training Company (now WPC Group) and Skilling Australia Foundation has allowed thousands of young people to pursue meaningful careers.
"That in itself is a very rich reward," Fred says, "to know that you have been a very important part of young people's lives."